To build the best product, manufacturers need to understand the project and its applications.
It can all start from using the proper cable assembly manufacturer. It helps to connect the different components. Whether you are manufacturing a vehicle or something else, it might be necessary.
So, ask them the right questions before sealing the deal. But, by right, we don't mean expected or simple. The cost and duration are only numbers. Leave them stumped and ask questions that are helpful and what they least expect.
Find out which manufacturer pays attention to detail with these seven random questions.

Alt – Custom control cable assembly
1. Do You Understand the Implementation and Extent of the Product?
Have they asked you any questions about the applications of the product? What environment will it be working in?
If not, they're not the best choice for your custom cable assembly.
The designing process involves many critical aspects. But the most important is to understand the intention of the project. It helps them ensure that the custom cable assembly manufactured works seamlessly. A good manufacturer works with your team to develop a phenomenal product. There is no room for overlooking any critical factors like the requirements. Such a manufacturer helps cut unnecessary costs by avoiding wasted materials.
A manufacturer that does not take an interest in your product's usage can increase the costs. They'll build a cable assembly without considering the product dimensions, and it ends up them wasting a lot of material and charging you for it.
The key here is to use the exact measurements after communicating with the buyer. Don't hire a manufacturer that does not customize products based on the specifications. The product specs and details are essential for building any functioning product.
2. How Do You Ship the Custom Cable Assembly After Production?

Alt-Tools and wires used to create a custom cable assembly
It may seem a bit odd to ask but hear us out.
Imagine this:
You get a custom cable assembly manufacturer to build a complex structure for you. The package arrives, but when you open it–it's all tangled.
The whole point of hiring them was to cut out the work for you. But now, you're left with a box of messed-up cables that need untangling.
Manufacturers need to deliver with minor knots and tangles. It makes sense to ship fragile cable assemblies in a safe way that minimizes knots.
No buyer wants to spend all day untangling through heaps of wire. The whole process loses its value with any damaged components. Make the more intelligent choice and ask for custom packaging. It will cost you more than the available shipping, but it is all worth it. You're saving time and the torment of receiving a package with broken components.
3. Cable Assembly Manufacturer—What is Quality Testing Process?
How do they manufacture the product, and how will they communicate these results with you?
Reliable companies follow specific protocols; find out what they are.
Ask them how they'll check the quality of the manufactured cables. And how they'll communicate the results to you. Details of the quality testing process are not easy to manufacture. But you can rely on an experienced custom cable assembly manufacturer to give them to you.
You can get detailed information on the quality control testing process here.
Crimp Compacting Ratios
Check the length of the wires after the crimping process. It is also called checking the crimp compacting ratios. It helps manufacturers limit if the crimping is too tight or loose. If it is not correct, the product loses functionality.
Pull Testing
This test determines the amount of force you can apply to a cabling attachment. These attachments include terminals, connectors, and ferrules.
Advanced Live Testing or Laboratory Testing
This type of testing lets you see how the product performs in extreme conditions. How does it work when not wired correctly?
Laboratory testing is an important aspect, and it determines whether the product can withstand the elements.
4. How Do You Label The Harnesses With Precision?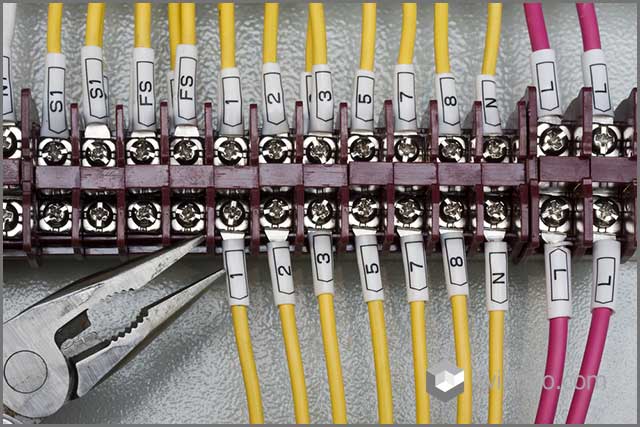 Alt-A custom cable assembly labeled precisely with numbers and alphabets.
The installation process is a critical part when using a custom cable assembly. Mislabeled wiring or wiring that is not labeled can throw you off track, and it is very time-consuming and not to mention fatal. Connecting the wrong wires can lead to disasters and life-threatening situations. It is a significant yet common concern amongst amateur custom cable assembly manufacturers.
A common mistake you can make is forgetting to ask them about the labeling of wires. You have a manufacturer that delivers exceptional quality wires. But what if the labeling is all wrong?
It leaves you trying different connections that are not good for your project. In many cases, this leads to accidents, and you cannot connect certain combinations, leading to explosions and property damage, if not fatalities. So, you'll end up paying for a lot more than a custom cable assembly manufacturer.
How do you label harnesses with accuracy? Get a clear answer to prevent any unfortunate incidents.
5. Do You Manufacture Custom Cable Assemblies For Any Big Clients?
Many manufacturers take pride in serving the best companies worldwide. Is that a good thing for you?
On the one hand, companies think this manufacturer is great. On the other, will your project be their priority?
They have bigger fish to fry. What does this mean for your project?
Is your product on their priority? Will they deliver it on time?
Having more prominent clients may imply that yours isn't a high-priority project for them, which is not the case every time. So, it is better to discuss these details beforehand for the sake of your timeline. It is essential to get the product delivered on time.
6. Cable Assembly Manufacturer—What About Customization?
When interviewing different manufacturers, you'll see they offer many cabling options, and you get to pick from other quality wires and cables.
There are a few that go the extra mile and offer more customization options. Talk to them and find out what services you can get.
Do they provide labeled wires? Do they offer ruggedized cabling? Crimp the cables in place?
Ask any questions that you want. Whatever extra bit you want in your package, get their input. These customizations will work wonders for the product. Labeled wires make installation more accessible, and the rest help the custom cable assembly survive extreme conditions and heavy usage.
While you're at it, ask them about the timeline, and you can plan the production and inventory accordingly.
7. Cable Assembly Manufacturer—How Do You Manufacture It?

Alt-A clean manufacturing room for an electrical industry
What are the products that you use? Is the quality good enough? What technique do you use?
Clarify any doubt that you have about the manufacturing process before finalizing. The technology used is critical when manufacturing a custom cable assembly. Obsolete machinery may build faulty or outdated products. To stay in the game, you need nothing but the best. It includes state-of-the-art technology, and it cuts time significantly and delivers better results.
Also, please find out the maximum volume they can manufacture at a time, and it helps you plan the importance of your orders appropriately.
Knowing the manufacturing process will help you in two ways:
• You'll find out the estimated costs
• You'll know what to expect
Summary
You can get information about their ability to deliver products with common questions. But this is not enough, and it is necessary to ask random questions. They let you understand the custom cable assembly manufacturer and how they operate.
At CLOOM Tech, we encourage our buyers to ask whatever questions they have. We take our time to clarify any doubts that they have. Have any concerns? Let's talk. It is what makes us one of the best custom cable assembly manufacturers. Our customers appreciate how easy it is to contact us and get answers.