Has it been quite hard for you to make a custom wiring harness for your wiring project?
Do you want the expert's knowledge on making a good custom wiring harness?
Just one read of this article will make you a professional wire harness designer.
We've covered extensively in this article all you need to know about wiring harness, the components required for a successful cable harness design, and a step-by-step guide on how to make a custom wiring harness for your trailer, car stereo, and engine.
Get ready to become a professional custom cable harness designer.
CHAPTER 1: Everything you should know about a Wiring Harness

Wiring harnesses are a systematic bound of electric wires that send signals and power to different electrical system points. The bounding of these electric cables is done using straps, electronic tapes, wire lacing, etc.
A wiring harness is always designed according to the application or the electric system's specifications in which it's needed. Over the years, there have been several developments and uses of the cable harness.
The following industry uses a lot of wire harnesses for their solutions; this includes:
Medical,

Telecommunications,

Acoustic,

Electronics.
All these industries have specific needs based on the designs, environment, electrical load, etc. Therefore, there is a need to make custom cable harness designs for every application.
Instead of connecting different cables through different electric points, a cable harness can only be designed for the system.
The advantages of using wire harnesses over loose cables are numerous;
reduced installation time;

optimum space management;

easy maintenance;

prevention of short circuits, and security from effects like vibrations, moisture, and abrasions.
Let's start our journey of helping you make your custom wiring harness with all these in mind.
What are the things you need??
CHAPTER 2: Things you need to make your custom Wiring Harness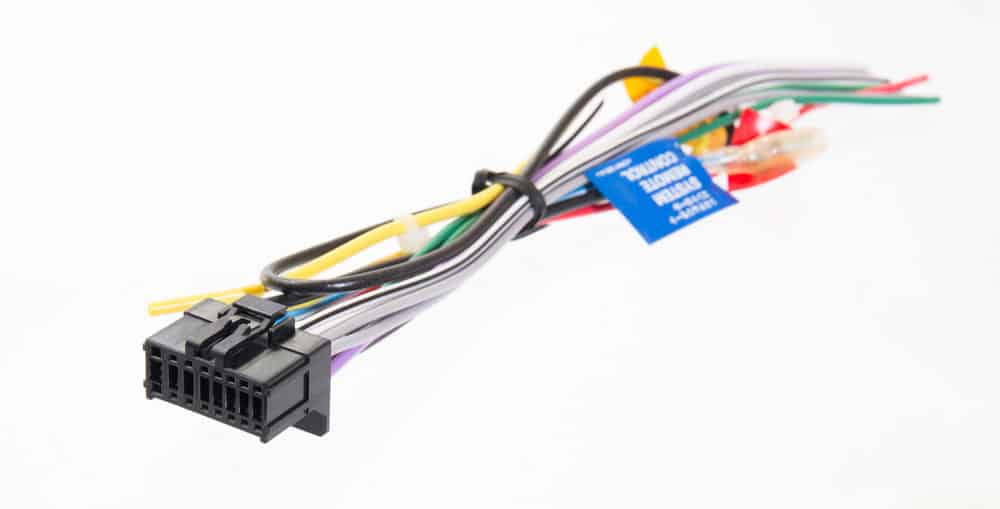 Before making your custom wiring harness, the first and most important thing is a design or wiring diagram.
This diagram will lead you to measure wires, cutting and stripping wires, bounding the cables, etc. In the next chapter, we'd look much more into using the wiring harness diagrams.
Asides from the diagram, the following tools are needed in making a wiring harness.
Wire Cutter: used to cut the wires;

Wire Stripper: used to strip off some part of the insulation of a cable;

Crimping Plier/Ratcheting Crimpers: used to tighten the terminals to the stripped wires;

Heat Gun: uses high temperature to shrink the covering plastic tubes to the body of the cable;

Multimeter: used to test for continuity and other parameters within the wiring connection;

Heat shrink: a soft plastic used as a covering for connection joints;

Wires: connecting wires for the flow of signal/power from the source to the needed terminal;

Terminals: a plastic body with a conducting head that makes contact with the bare/stripped wire;

Zip Ties: used to bundle the wire harnesses neatly.
This equipment varies on the large-scale production of wiring harnesses.
There are now fully automated machines that take care of the whole process from the wire cutting, stripping, crimping, and joining terminals, etc.
These machines have correct and efficient outputs, ensuring there are no loose ends or short circuits.
That's why we at Cloom use fully automated machines for all our custom wiring harnesses.
Like I said earlier, to make your custom wiring harness, you must first have a circuit diagram.
Let's look in detail, why and how to use one.
CHAPTER 3: How to use a wiring harness diagram?
The circuit design/diagram is very foundational to make a custom wiring harness successfully.
Everything you have to customize in your cable harness comes from a well-designed wiring diagram.
Please note, the wiring diagram is entirely different from a schematic diagram.
A wiring diagram gives a physical layout of the connection, unlike the schematic diagram.
However, it also makes use of abstract symbols to represent some components.
You can tell from the wiring harness diagram how complicated or how pure your custom wire harness would be.
Ideally, every cable harness circuit diagram will have the following;
Symbolized components,

Optimum positioning,

Splice positions and Wire colors.
Whatever you see on the wiring harness diagram represents what and how the wire bundling will look.
If you don't have a wiring diagram, you need to consult an expert to design the perfect wiring diagram for your application.
This video would be a helpful link:
Once you've got the wiring diagram and components ready, these are the possible types of harnesses you might be making, so take note to identify them.
CHAPTER 4: Types of Wiring Harness

Two major factors determine the type of wire harness to make.
Firstly, the application, secondly, the environment. Based on these two factors, there are 3 types of cable harness that you can make.
They include:
wiring harness–
Open Bundle:
in this type of wiring harness, the cables are attached to the connectors and lugs and are coupled in bundles with various breakouts using plastic tie wraps or waxed lacing twine.
wiring harness–
Closed Bundle:
Wires are bundled with a covering, such as pulled-on braided tubing, braided-on Nomex or nylon, or in some cases, metal braid.
Waterproof harnesses:
Legs are covered with tubing, such as neoprene. The junctions between the legs and backshells of the connectors are molded with a material such as urethane or rubber compounds.
In some cases, PVC tubing and molding are used.
Curled from CONNECTOR SPECIFIER magazine.
Enough of theory, let's get our hands-on; you can follow the instructions below and the shared links to customize your trailer, car stereo, and engine harness.
CHAPTER 5: How to custom Trailer Wiring Harness?
wiring harness–
Step 1:
To make custom trailer wiring harnesses, you first have to develop an intended design based on the geometric and electrical requirements of a trailer. This design should be represented on paper so you can easily refer to it.
wiring harness–
Step 2:
After putting down the design, you cut the wires into desired lengths using a wire-cutting machine/cutter.
wiring harness–
Step 3:
When making the design of a custom trailer wiring harnesses, which would usually be fixed on a towing vehicle, you have to consider the requirements of the trailer; This includes powering the operating lights on the container, which are the turn, tail, stop, park and brake lights and other electrical parts of the trailer depending on the trailer. Take note of this process mentioned to ensure the towing vehicle is in total control of the container's electrical elements.
wiring harness–
Step 4:
When purchasing wires to use for a custom trailer wiring harness, you have to ensure your cables can withstand fire, abrasion, vibrations, corrosion, and extreme temperatures. One way to ensure this is by getting heat-shrink collars galvanized wire clips to make the wires firm and straps to pack the cables together.
wiring harness–
Step 5:
After knowing the trailer's electrical requirements and getting suitable wires, the next thing is to make the connections to the guiding lights, ensuring you work on one view (circuit) at a time. Connect connectors on one end of the wiring harness to the part designed for it on the towing vehicle and the other purpose to the trailer lights accordingly.
wiring harness–
Step 6:
After making all the necessary connections, you then tidy up the wires using the clips, collars and straps talked about earlier so that the cables don't just dangle around when driving. The most advisable is to tape the wires together using the straps to hold them in one place.
wiring harness–
Step 7:
Put your wiring harness to test. If you encounter any problems, you can refer to this video to troubleshoot them.
Let's move on to car stereos.
CHAPTER 6: How to make custom Stereo Wiring Harness?
The function of a stereo wiring harness is to transmit audio signals.
Step 1
To make a custom wiring harness for a stereo, you have to consider the stereo port and pins in it. Check the pins in it and find out each of the nails; This varies from stereo to stereo, so it's best if you search for your particular radio on the internet to know each pin's functions.
Step 2
After getting this, then you get wires suitable for audio transmission. The quantity of cable you will get depends on the number of pins in the port and the distance over which the wiring harness is connected.
Step 3
Then you get a connector that has pins that match the stereo's port. Solder the wires accordingly to these pins ensuring that the pins don't touch each other in the process; This can be achieved by insulating each connection with a piece of heat shrink.
Step 4
After soldering wires to all the pins required successfully, the next thing is to get female A/V jacks. These can be obtained from electrical stores. Solder the wires to the female A/V cords accordingly, noting that the outside metal of the A/V jack is harmful while the inside is positive.
Step 5
After this, use a multimeter to ensure that all the connections are tight and connected.
Step 6
After ensuring the connections are correct and working, make the relationships strong and durable by melting the plastic on each link using a glue gun. After this, recheck the connections to see if they are working with the multimeter.
Step 7
Lastly, bind the wire together using wire straps to make it firm and neat. Your custom stereo wiring harness is ready.
Step 8
Put your wiring harness to test. If you encounter any problems, you can refer to this video to troubleshoot them.
To the last DIY project, the engine wiring harness; This can be quite tasking, though, but we believe in you.
CHAPTER 7: How to make custom Engine Wiring Harness?
Making a custom engine wiring harness depends on the engine in question and the function it's to perform;
This
 would determine the structure of the wiring harness.
Step 1
Highlight the function of the wiring harness in the engine. It's essential to draw out a plan then and list out the parts and materials needed.
The wire specifications would also depend on the engine and the function the wiring harness is to perform.
Step 2
Basically, for engine wiring, relays are always used. You start by attaching the wires to the relay accordingly. After wiring the relays, you mount the relays and then create a switch and route the switch harness from the relay to the switch location accordingly.
Step 3
After making the switch connections, route the wiring towards the engine part, and make the connections there accordingly.
Step 4
After all the connections have been made, ensure the connections are working using a continuity checker.
Step 5
After this, tape the wiring together to make it firm and stable; This can be achieved via various means like using wire straps or electrical straps. After taping them together, secure the wiring harness away from moving engine parts.
Step 6
Put your wiring harness to test, and if you encounter any problems, you can refer to this video to troubleshoot it.
Clear, right?
If you bother to know, this is how our experts at Cloom make custom wiring harness solutions to companies worldwide.
CHAPTER 8: How we Custom Wiring Harness in Cloom?
To customize a wiring harness to suit your applications, our design experts follow the following steps meticulously.
We understand your system's specifics and applications of the wiring harness to be made; This will help us determine the type of wires, kind of insulation, connectors to use, and so on.

We get your detailed circuit drawing for the electric system to be wired. Our design experts can also make a professional wiring circuit drawing for you.

Using state-of-the-art equipment and technical expertise, we design a prototype set of wire harnesses for your desired system to suit the applications, resistance, and other specifics.

We test the accuracy, efficiency, and functions of the cable harness with the aid of a state-of-the-art test board.




This way, only A+ solutions are produced for any application you might need.
Cloom, your most reliable wire harness and cable assemblies manufacturer, has professional expertise and the latest technologies for offering excellent custom wiring harness.
We have more than adequate experience in Electronics wiring harnesses, Power cables, Signal wiring harnesses, and Automobile wiring harnesses.
Conclusion
Worth the read, right? We hope you can now boldly say I'm a wiring harness professional.
You can send us an inquiry for the custom wiring harness you need, and we'd reach you promptly.