Soldering wires in the wire harnesses are not only time-consuming but a costly method too. If you want to keep the project cost minimal, then think of an intelligent solution. As wiring harness manufacturing is a more practical approach for wire management, crimping is also a better alternative for soldering.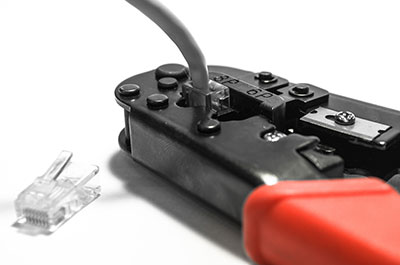 Crimper with red handles
Crimping wires in wire harness manufacturing requires quality testing as terminal connections define the durability of wire harnesses. CLOOM Tech wiring harnesses manufacturing teams use state-of-the-art crimping tools. We ensure quality connections between all terminals in any wiring harness. Here are some considerations for crimping wires:
1. Wire Insulation Should Fully Enter the Crimp Tab
The crimp tab is responsible for holding the wire tight and making sure that the wire is fully covered with the crimp tab. When peeling off the wire, strip enough wire and twist it so that the account can grip it firmly. The crimp tab must be entirely over the wire, and if it touches the insulation, that's fine.

Tools and tips of different sizes and colors for crimping stranded electrical wires
In most cases, it is better if the crimp tab comprehensively covers the stripped wire and a small portion of the insulation. It adds an extra layer of firm grip so that crimped cables can withstand rough use during installation and application. There are some more advanced crimping tools and connectors where you don't need to strip the wires, and the connectors can make contact with the strands without stripping the wire. This method is most effective and less time-consuming. When you press the crimp tab, it will automatically make direct contact with the wire. You can skip the long process of stripping wires for crimping. If you insert stripped wires in these connectors, you will still get the same results, but why would you like to waste your time stripping.
2. Wiring Harness Manufacturing—The Wire Should Be Flawless.
The crimping process ensures the firm grip of the terminals and connectors, but if the wire is flawed, you may not get the desired quality. In wiring harness manufacturing, the quality of wire matters a lot. At CLOOM Tech, we have strict protocols to ensure the international standards of wiring harness manufacturing.
If you think that using damaged wire will get the job done, you are wasting your time and your investment. Nothing is more important than the safety of your project. So, make sure that the wires you are trying to use in wiring harness manufacturing are flawless. Damaged cables may not work in the first stage, and even if the miracle happens, the connection will break soon. Once the power supply is cut off, you will end up paying even more money in the form of repairing costs.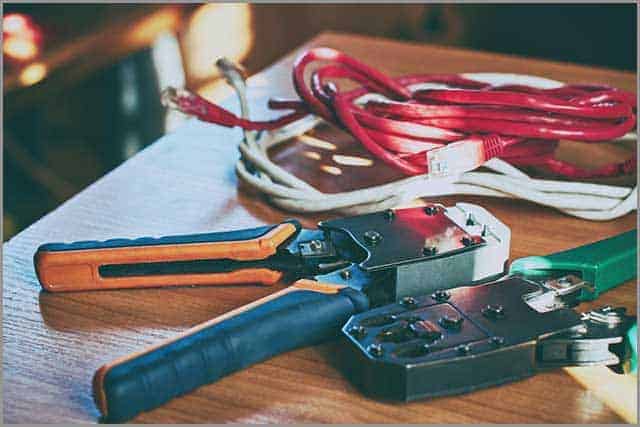 Electrical crimp tools and wire
3. Wiring Harness Manufacturing—Connectors Fully Retain the Wire
Lose connectors are the biggest threat to the smooth transmission of data and energy. While connecting terminals in wiring harness manufacturing, there are several ways to ensure the retention of wire. The end goal of using advanced tools and crimping technologies is to provide firm connections. If that does not happen and you lose terminals, there is no point in investing in these services. CLOOM Tech mainly focuses on quality crimping as part of better customer support. We continuously check every batch against different methods for wire retention. Every product from CLOOM Tech comes with quality crimping so that you can rely on our products and services.
4. Wiring Harness Manufacturing—Crimp Indentation Must be Right.
This precaution is not only about the quality of crimping but more about the aesthetics. For better management and presentation of wires, all components must be well-aligned. While crimping wires for wiring harness manufacturing, wires must be in the center of the crimping tab. If the cables are not centrally aligned, the account will not correctly grip the wires. The central indention is essential for a firm grip, and it also presents the project in a better way.
5.No Signs of Tearing or Pulling on the Insulation
Wires that you are using in wiring harness manufacturing are somehow different from the typical energy wires, and these wires are part of complex systems where quality matters the most. Unlike simple circuits, changing and replacing wires in the wiring harness can be a hectic task. If you have wires with poor or damaged insulation for crimping in the wiring harnesses, it may break from the weak points.

Tools for electrician and cables
While using wires for crimping in the wiring harness manufacturing, make sure to connect reliable cables. If you feel that the slight damage can turn to be a disaster in the future, consider replacing that wire. You can use that slightly damaged wire somewhere else in the system, but wiring harnesses are not the option here.
6. Crimp Tab Should not Damage Insulation.
The use of crimping technology can alter the wire crimping process. In general, manufacturers use typical crimping methods for wiring harness manufacturing. Hence, wire with striped insulation goes into the crimp tab. The crimp tab slightly holds the insulation, too, for a firm grip. The crimp tab should not damage further insulation. While pressing the crimping tool, use enough force to grip the wire but not break the insulation. Striped insulation can because by corrosion due to damaged insulation. In a work setting with chemical exposure and humidity, perfect insulation is essential. Although the crimp tab will damage a small portion of the insulation, the impact can be huge.
7.Wiring Harness Manufacturing—No Broken Insulation
While stripping the insulation, you will have to be careful. Wrong stripping can break the insulation, and that isn't good for project safety. Insulation is not only critical for project safety but human safety too. Exposure to the wire with damaged insulation can lead to severe health damage.

Engineer crimping wires
At CLOOM Tech, we use custom wires and cables for wiring harness manufacturing. We take special precautions during the design and manufacturing process to deliver flawless products to our clients. While working with our team, you can have peace of mind to get professional crimping with flawless wires and components.
8.No Visible Cracks in any Component
Wire separation of damaged wires is a red flag for you. If you see any damaged insulation or other abnormalities in the wire, skip that wire and use the new one. These quality standards are not for cables only, but every active component must be in perfect shape. From wires to the crimp tab, every part is equally important. Ignoring one piece may lead to more extensive damage later on. A professional wiring harness manufacturing supplier will consider all of these precautions. We have a long checklist for wiring harness manufacturing so that we don't have to face any complaints from the clients.

Crimping tool component and cables
Conclusion
If you want to save project costs with professional crimping in wiring harness manufacturing, you can have a detailed meeting with our team. CLOOM Tech offers affordable yet quality wiring harness manufacturing services to international and local projects. We can help you to scale your business.