Regarding semi-rigid cable assembly, cable manufacturers have constantly researched and developed to improve cable technology over the years. That way, they can keep up with the current trends in applications by upgrading the cable materials and enhancing fabrication processes. 
More advanced coax cable technology has given manufacturers more room for extra design potential. An example of advanced coax cables is the semi-rigid cables which play a very important role in the system application.
Read on to learn more about semi-rigid cable assembly and everything you need to know.
What is a semi-rigid cable?
A semi-rigid cable is a coaxial transmission line that uses a solid metal outer conductor(usually copper outer sheath) to cover the center conductor. In addition, a dielectric material supports the center conductor and keeps the wire centered in the tube along the same angle as the outer conductor.
Six "knowledge points" about semi-rigid cables
Below are six essential facts you need to understand:
1. Independent microwave components
Semi-rigid cable is a type of microwave assembly. Therefore, the specifications are as important as that of the coupler, bridges, and amplifiers. These cables can be long-lasting if properly connected to other system components.
If you glance at any budget link analysis, you'll understand how electrical parameters such as attenuation and VSWR play a key role in the reception and transmission of RF signals. 
When comparing semi-rigid cables and standard RG-type cables, consider: it can take up to an hour or so per attachment for a space-qualified semi-rigid cable that uses a soldered connector. On the other hand, it can take a minute or less for RF connectors when using crimp attachment on the standard RG type.
RG6 cable 
2. Broadband coverage
Semi-rigid cable assemblies support data transmissions of up to 65GHz. The cables can support an even higher frequency of 110 GHz if using a cable terminated with 1.0mm connectors.
Semi-rigid coaxial cables are available in various diameter sizes between 0.034 to 0.250 inches. The most popular sizes are 0.141 and 0.086. In addition, the 0.047 has become more popular in support of higher frequencies using more miniature form adapters.
0.141 inches semi-rigid coax transmission ending with high-frequency SMAs or 2.92mm supports a frequency of up to 27Ghz. At the same time, 0.086 inches transmission ending with 1.85mm will support up to a frequency of 65GHz.
3. Shaping and maintaining shape
As the name suggests, these cables are sturdy enough to hold their shape and are flexible enough to bend using hands. So, manufacturers can form these cables into precise shapes to fit into the system's design. But it's best to use special tools to avoid damaging the outer pipe wall when bending.
A point to note, once you bend these cables, the shape can't change again. Ignoring this factor will only affect the electrical functions of the semi-rigid cables. After all, the shape change can damage the outer wall of the cable.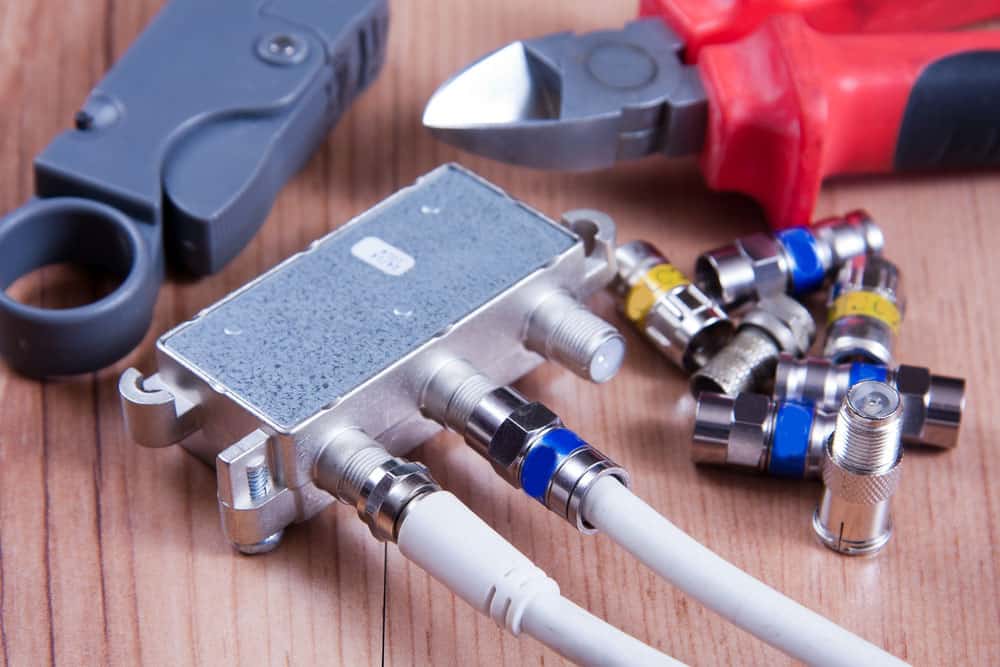 Special tool
4. Phase stability
Due to changes in temperatures, the properties of materials will change, so it is vital to use phase-stable cables in most critical systems. Materials used to manufacture these cables are of high quality. Therefore, they are electrically stable as compared to flexible coax.
Additionally, systems need phase-length control, especially antenna systems. During manufacturing, the cable lengths are slightly longer to give room for future adjustments. However, with semi-rigid cables, you don't need that; you can always bend the cable to suit your needs and match it in its final bend configuration.
5. Low passive intermodulation (PIM)
Manufacturers use non-ferrous materials such as copper to make semi-rigid cables. When aligned with proper connectors, the copper tube semi-rigid coax has a perfect PIM performance, which makes it ideal for modern multi-frequency wireless communications systems such as DAS (Distributed Antenna System).
6. Deliver Maximum Power Transfer
Semi-rigid cables deliver maximum power transfer through impedance control. The characteristic impedance is the result of the center and dielectric diameters along with the dielectric constant of the insulator.
The application of a semi-rigid cable
Semi-rigid coaxial cables find applications from low to high broadband of up to 110GHz. Therefore, semi-rigid coaxial cables are best if your system operates above 500 MHz of broadband when you need a good performance and proper shielding.
Where applied:
Defense electronics
Test and measurements instrumentation
Military and aerospace
Telecommunications
The reasons for using semi-rigid cable in RF/microwave energy applications are:
No other cable matches the semi-rigid cable's sturdiness. Be it shielding, attenuation, and return loss performance. 
Semi-rigid cable connectors are readily available.
No bulky bending or lengthy crimp sleeves behind the semi-rigid cable connectors. Therefore, the cables allow for tighter connections without using lesser-performing connectors.
No crosstalk problems among lines. You can achieve semi-rigid cable assemblies in exact dimensions and precious cable routing.
How to Select a Semi-Rigid Cable?
Coaxial cables are purely dependent on material and size. For example, a stranded center conductor and braided outer shields have more loss than solid centers and outer conductors.
The Center Conductor
The center conductor acts as a semi-rigid cable's core electrical signal carrier. It can be a solid or stranded metal wire. However, a more significant percentage of semi-rigid cables only use a solid center conductor. Why? Because flexibility is not a core concern.
In addition, attenuation occurs at the center conductor due to the skin-depth effect of microwave signals, so the finishing or plating is critical.
The two primary center conductors are:
Silver-plated copper (SPC)
Silver-plated copper clad steel (silver-plated copper weld (SPCW)
Silver plating prevents oxidation during manufacture and is responsible for cable solderability improvement. When thermal conduction is a priority, stainless steel and beryllium are ideal.
The Dielectric
It is an insulating material between the outer and center conductor of the cable. It maintains spacing and configuration. Moreover, the dielectric causes transmission losses. Cables with lower dielectric constants require larger diameters to maintain impedance. The larger center conductor can lower cable attenuation.
An example of a popularly used dielectric for semi-rigid cable is polytetrafluoroethylene (PTFE).
The Outer Conductor
It controls RF leakage and contributes to cable attenuation. It also reduces return loss (VSWR) through constant characteristic impediment maintenance. The outer conductor is the core strength member keeping the connectors firmly anchored.
It provides environmental protection and determines cable flexibility during bending.
The most used cables are copper and aluminum, which have low DC resistance.
Plating and Finishes
Plating conductors such as copper and aluminum are essential for corrosion protection and solderability. The common plating materials are tin and silver, as they are soft and flexible.
Silver is highly corrosive resistant but vulnerable to tarnishing. Tin is economical, highly resistant to corrosion, has high solderability, and is the preferred outer cable conductor. Tin plating is susceptible to tin whiskers. They may cause short circuits. To eliminate tin whiskers, add a little lead to the plating.
Conclusion
Semi-rigid cable assemblies are vital microwave constituents applied in many RF applications globally. They are popular and come in handy in telecommunications, military, aerospace, defense electronics, etc. Their ability to transmit larger frequencies, reliable electrical performance, and phase stability makes them very popular among engineers.
Do you need help with the semi-rigid cable assembly? Contact us now.