The SAE cable charges vehicle batteries and power various automotive and motorcycle accessories.
You may be confused, about how to choose the right SAE cable. Before answering this question, you need to learn some necessary knowledge.
That's why we've prepared this guide to tell you everything you need to know about SAE cables.
So let us achieve.
CHAPTER 1: What is SAE?
Definition
SAE, or Society of Automotive Engineers, is an international professional association that develops global standards for engineering industries.
The organization's standards harmonize the production of different cables and electrical equipment types and offer a foundation for all manufacturers to be on the same page.
SAE standards enable manufacturers to improve the quality of products and meet safety guidelines.
The SAE cable in the scope of our article is used to establish a connection between a battery and other devices.
Specification of SAE Cable
The SAE cable can be called a 'hermaphrodite' connector because it features both male and female connectors.
The cables are generally used for automobiles and motorbikes though you can also use them for solar panels and alternative energy applications.
It is one of the components of a PCB soldered to provide extra sturdiness.
The SAE cable comes with two conductors and is commonly utilized to provide a maintenance charge to a car's battery.
When harnessed with a battery system, the polarity of the terminals is designed to prevent any incidents of the short circuit even if the exposed ends come in contact with the metal vehicle chassis.
For this reason, the exposed terminals of the cable are connected to the negative outlet of the battery.
On the other hand, the positive end of a battery charger is often exposed and hooked up with the concealed SAE connector.
The circuitry of the battery charger also contributes to reducing any possible risks of short circuits.
Lead-acid batteries have higher chances of experiencing short circuits, so you must use a good quality SAE cable to mitigate the risks.
Next, we will discover the implications of SAE connectors and discuss the widely used SAE battery connector.
CHAPTER 2: SAE Connector
The SAE connector is mainly used for automotive applications and solar solutions.
But their versatility means you can also use them for other industries.
One of the common types of SAE connectors is the SAE battery connector.
Let's find out a bit about it!  
SAE Battery Connector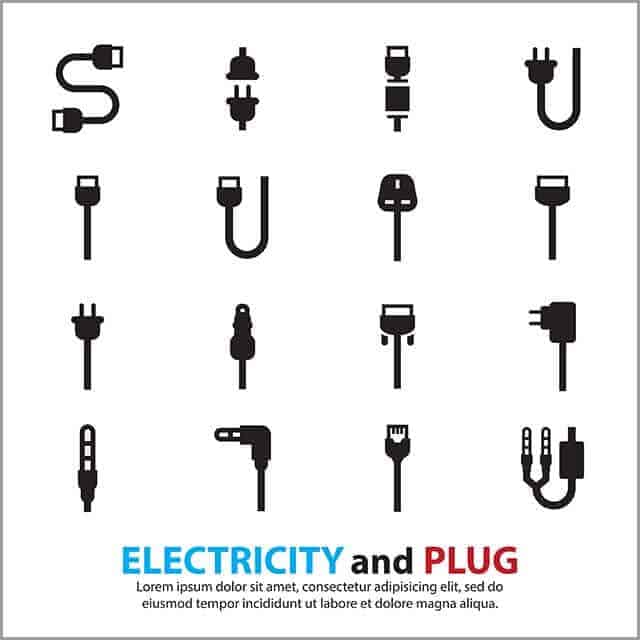 The SAE battery connector is a simple cable that connects your battery to other devices like chargers.
It has rings or clips at one end to connect to the battery and features a standard SAE connector on the other end.
The cable also has a 15 Amp to 25 Amp fuse to protect the battery.
You can set up the cable and connect a battery tender to charge your vehicle or motorcycle battery.
The SAE battery connectors don't have the risk of a short circuit even if the unexposed end comes in contact with metal.
For this reason, they are safely suitable for use with different types of automotive parts.
For example, you can hook up a heated vest with an SAE cable with a round end and an SAE connector on the other end.
The SAE cable connects easily with the cable connector to establish a connection.
You can channel the SAE connector from the side of your bike and connect the battery tender or other devices.
The SAE battery connector features two ring terminals which you have to connect to the positive and negative points of the battery.
The terminals are generally color-coded in red and black for your convenience.
You can buy longer SAE connector cables that can measure 25 feet.
These are ideal for use in the garage, where you need power access for the battery charger, which can be located away from the vehicle.
Some manufacturers can use different connectors, but SAE is preferred because they are easy to use, affordable, easily available, and safe.
In the next chapter, we will discuss SAE plugs and then look at the adapter.
CHAPTER 3: SAE Plug
 SAE plugs can be used for basic wiring and general-purpose applications in motorcycles and cars.
The SAE plug at the end of the cable enables you to connect different accessories and charger boxes.
Most of the SAE plugs are compatible with motorcycle tank bags.
The SAE plugs are used across different industries and applications such as alternative energy, utility and off-grid solutions, recreational vehicles, vehicle installations, emergencies, and more.
Their versatility makes them suitable for navigation equipment, mobile phones, and laptops.
The SAE plugs are made for low-voltage though you can find many products which handle a higher amount of voltage for use in RVs, trucks, and other heavy-duty applications.
You can find different lengths of SAE plugs for automobiles of all sizes.
After the initial job of setting up the SAE, the plugs are over. You can look forward to a toolless assembly then onwards.
SAE Adapter
You will find different types of SAE adapters that can be used with various applications.
For example, you can have a USB adapter inside your vehicle (we will discuss SAE to USB later) or use a male-to-female adapter to establish a connection.
Another type of SAE adapter is commonly used to connect traditional SAE chargers or jumpstart equipment to newer cables.
These are sometimes used in power sports applications and automobiles and provide an easy way to connect different equipment.
Generally, the adapters are designed to achieve minimal power loss and maximum current flow.
One SAE adapter is common in cars and helps light up your smoke.
The convenient SAE to electrical lighter adapters sit comfortably in the dashboard of your vehicle and are connected to the battery on the other end.
Different accessories and equipment manufacturers also produce custom adapters to accommodate their products.
For example, you can find custom adapters that fit with chargers, solar panels, heated clothing, GPS, and other SAE devices.
Now it turns out to find out more about SAE to USB cable.
CHAPTER 4: SAE Cable
When choosing the right SAE cable, knowing what type of cable you need first is important.
SAE cables come in all shapes and sizes and are made to suit different needs.
We have already discussed applications like heated clothing and battery chargers that use SAE cables.
Technological advancement and lifestyle changes have led to new types of SAE cables to meet our modern needs.
We use gadgets as a part of our daily life that need a power source to keep functioning.
Many companies have started making SAE cables geared towards the gadgets like SAE to USB cables.
SAE to USB Cable
USB has become a popular format for different electronics around the world.
A common interface makes keeping all your devices up and running easy with simple charging options.
SAE to USB cables enable you to charge your cameras, mobiles, tablets, GPS navigation, and more by connecting them to the USB port.
SAE to USB cables has an SAE connector at one end and a USB port at the other.
The SAE connector is hooked to the battery unit of your vehicle or motorcycle, while USB connectors are placed on the dashboard or your fuel tank.
You can also find SAE to USB adapters, portable or dongle-shaped devices with a UBS port, and an SAE connector.
You may need a separate SAE extension cable to connect the adapter to the battery.
The SAE to USB connectors delivers different power levels, such as 1.1 Amp, 2.1 Amp, and 3 Amp.
You should check the power compatibility of your device before connecting them to the UBS ports.
A low power level automatically protects the battery from total discharge.
Your battery's voltage is another important consideration, as not all SAE to USB cables can sustain the same amount of voltage.
Some can sustain as high as 12 Volts, while others can support low outputs of 5 Volts.
You can find single or multiple USB ports on an SAE to USB cable or adapter.
The USB end sometimes has a protective cap to seal the ports when they are unused.
A few things also make your SAE to USB cable safe and efficient.
You can look for safety features like protection against overheating, short circuits, and high voltages.
Also, it's better to go for cables and adapters, which are water, dust, and weather resistant.
In our next chapter, we will briefly overview the SEA connector extension cable.
CHAPTER 5: SAE Connector Extension Cable
You may often not find the length of your SAE cable adequate for your purpose.
Sometimes the battery chargers must be connected to a wall AC outlet, and the SAE cable may not reach the vehicle parked outside.
You may also want to have some freedom and charge your devices sitting by the side of your motorcycle.
Sometimes the standard battery SAE harness falls short in length, leaving you in a fix!
An SAE connector extension cable comes to the rescue by offering you an extra cable length.
You can connect them to the SAE plug and hook the other end to your device's battery charger.
SAE cables have specific standards which define their scope and application.
We will take a look at the common standards in the next chapter.
CHAPTER 6: SAE Cable Standard
SAE cables have different standards suitable for use in the automotive industry. J2183, J1127, and J2863 are some of the standards in use.
We will look at some common standards and determine what they are used for.
J2183 is a single-core SAE cable supplying DC electricity between 60 and 600 Volts.
You can use them for high-energy applications like solar grids and high-power automotive needs of trucks and RVs.
J20320 SAE cables are ideal if your job involves assembling ignition cables.
The J1127 is the commonly used low-voltage battery cable used in motorbikes and cars to connect the battery to different devices using an SAE plug.
The J1128 is the low-voltage primary cable necessary to charge and jumpstart your vehicle battery.
J2863 is meant explicitly for an automotive trailer tow connector and can withstand high loads of DC.
Usually, you don't have to confuse yourself by remembering and evaluating all the SAE standards.
The manufacturers of SAE cables duly declare the specifications of their products and the applications so that you can choose easily based on your needs.
We have almost arrived at the end of our article.
Before wrapping things up, we will look at different types of SAE connectors to cables.
CHAPTER 7: SAE Connector to Cable
 As we have already discussed, you can use different SAE connectors for the cable.
You need to determine your need and application to choose the right connector.
We will explore the common type of connectors so that you can easily choose.  
SAE Connector with Leads
SAE connector with lead is used as automotive cables and is suitable for rearview camera systems.
The cables have a standard SAE plug at one end while the other is exposed to connect them to any wire or connector.
The SAE cables are designed to withstand high heat, oil, solvent, and abrasion levels.
The insulation material gives the cable a low-temperature resistance and high scrape strength.
SAE to SAE Connector
As the name implies, the SAE to SAE connector comes with SAE plugs at both ends.
You can use it for automotive wiring and connecting various vehicle and motorcycle accessories.
The cables are also suitable for military, industrial, and agricultural use and work with older SAE models without a problem.
The SAE cables are also made to be solvent, heat, and weather-resistant.
You can use them for any application that demands DC power transfer.
Generally, the cables are smaller over a mold, allowing you to fit them in tight spaces.
SAE Connector with Battery Clamp
You can take the help of an SAE connector with a battery clamp to supply power to your devices from the battery directly.
It features a conventional SAE connector on one end and two clips or clamps on the other to connect to the battery.
The clamps are color-coded in red and black to know which goes to the positive and which connects to the negative.
Conclusion
SAE cables have many applications in the automotive, agriculture, military, and renewable energy industries.
After reading this post, they come in different specifications, which you must be aware of.
Knowing the specifications is necessary for choosing the right SAE cable and the success of your project.  
Why Will You Love Us?
Specialized products like smartphones and laptops cannot be equipped with traditional rigid circuit boards without compromising their compact design or lighter weight.
An ideal solution is a flexible PCB, a comparatively newer technology used widely in medical, automotive, and consumer electronic products.
You can order SAE cables with custom specifications or international standards by contacting us.
We can manufacture high-quality and safe wiring solutions meeting your design and parameters.
Depending on your project, you can go for customized lengths, insulations, connectors, and more.