All arms of the Department of Defense, be it the Navy, Coast Guard, Marine, or Army, need precise control and reliable power. Thus, cable assembly military design forms the core of every piece of equipment used, armored vehicles, tanks, infantry vehicles, mine protection vehicles, ships, humvees, armored personnel carriers, SUVs, cargo vehicles, rugged ATVs, and four-wheel drive vehicles.
What Are Military Cable Assemblies?
Manufacturers design and engineer military wire harnesses and cable assemblies to meet certain MIL-SPEC specifications. Also, they must fabricate the cable assemblies using connectors, wires, terminations, cables, and other components approved and specified for military application. 
Standard wire and cable configurations will do the trick for most everyday applications. But due to the harsh conditions in aerospace and military applications, you'll need configurations of higher quality and reliability.
Today, the primary use of military wire guidelines is differentiating wire and cable assemblies. Some references were successfully transitioned to standards by private entities such as ANSI, NEMA, and SAE. Therefore, manufacturers should refer to the standards before deciding on the construction cables and wires or materials for specific military-grade applications.
MIL-SPEC Wire & Cables 
MIL-SPEC wires and cables are unique since they have their designation, unlike other products like high-temperature or hook-up wire. Like CSA and UL standards, people consider the product genuine or an actual MIL-SPEC wire by following a specific set of standards.
The wires get used in every military vehicle's internal wiring of electric panels, electrical equipment, meter, and electrical components. The specific applications vary from antennas, airframe wiring, point-to-point wiring, bonding moving parts, and any instances that require durable shielding.
Today, manufacturers use several standards to differentiate a wire's specific attributes. For example,
MIL-SPEC Connectors
MIL-SPEC connectors are shell-type connectors built to meet certain military specifications. When designing MIL-SPEC connectors, manufacturers considered the need to protect connections from harsh environmental conditions, making them usable in aerospace and military applications.
A connector consists of a plug, receptacle, and mating pair, each with a socket and pin contact. Usually, electrical connections consist of phosphor bronze or beryllium copper that's later plated with gold or other non-corrosive high-conductive metal. However, manufacturers plug the connectors with a protruding ferrule holding the fibers for fiber-optic connections while also aligning two fibers for mating. With fiber optic connections, an essential specification is the insertion loss; that's the amount of light lost during the connection.
Some of the military standards and specifications that MIL-SPEC connectors must meet include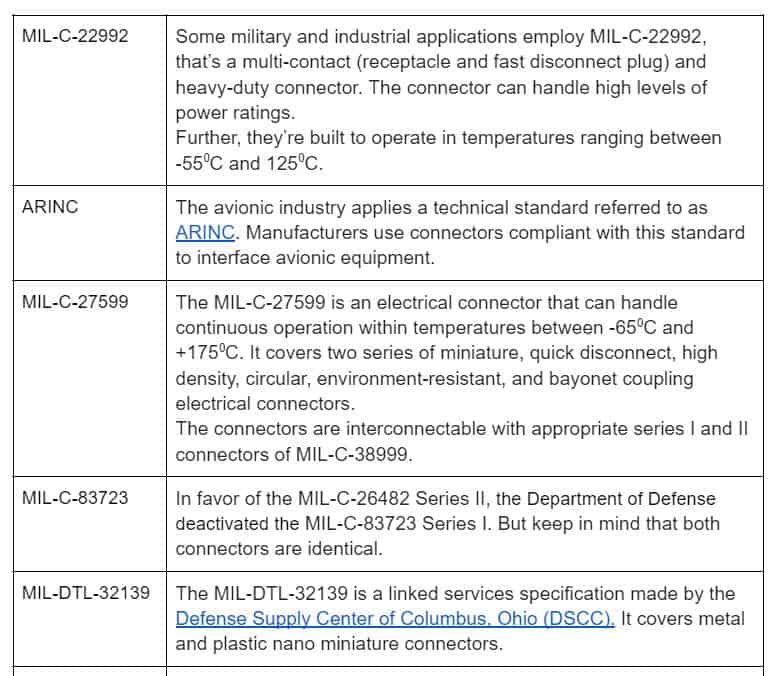 Benefits of Military Cable Assemblies
Because of how much aerospace, military, and security technologies get exposed to extreme conditions, reliable custom cable assemblies and electrical wiring is needed to ensure safe and dependable equipment operation. Therefore, the connectors and cables share the following characteristics.
Ruggedisation
Connectors and cables meet various military-grade specifications. So they can handle medium and high-temperature installations for optimum performance even when exposed to extreme mechanical stress. Also, they're suitable for high-frequency electronic applications where high temperatures pose a threat. In addition, MIL-SPEC cables offer outstanding, steady electrical characteristics with minimum power loss.
Miniaturization
The demand for miniaturization is increasing rapidly in the aerospace, military, and security industries. Miniaturized connectors and cables are equally efficient and reliable as conventional methods, only much lighter and smaller, offering better flexibility, easier integration, and shorter time delays for faster signals. Additionally, miniaturization makes integrating extra space for crucial aerospace and military applications easier.
Microwave & RF
A wide array of coaxial connectors enable the design of custom and high-performance military and aerospace cable assemblies. Standard core ranges cover a maximum frequency range of 4GHz to 40GHz. But if needed, specialized RF and microwave products can handle frequencies as high as 110GHz.
Applications of Military Cable Assemblies
Military and aerospace wire and cable assemblies enable dependable and safe operation for various critical applications, such as
Space force systems
Military ground components
Avionics systems
EMI-sensitive equipment
Field and inter-shelter communication components
Satellites and space shuttles
Ships, submersibles, and other marine systems
Airborne communication and navigation systems
Remote weapons control
5 Primary Factors That Help You Determine If you Need a MIL-SPEC Cable Assembly
Although you won't always have to adhere to military specifications in every project, applying MIL-SPEC in some circumstances is useful. In addition, military-specified cable assemblies are more costly. Therefore, deciding whether it's crucial to your application is important.
Are you planning on using it in a critical process? If this component's failure threatens the entire process, it's advisable to invest in a military-specified cable assembly that guarantees optimum durability and continuity of the process.
Next, consider the environment surrounding the cable assembly. Manufacturers design MIL-SPEC cable assemblies to withstand harsh conditions without malfunctioning. The cable assemblies can undergo extreme temperatures while offering corrosion and abrasion resistance. If your intended application demands high levels of robustness, then MIL-SPEC cable assemblies will effectively handle the job.
Consider the impact of vibrations and motions. If the intended application exposes components to constant vibrations and motion, you should consider getting military-specified cable assemblies. Especially in military applications where there are frequent motions and constant vibrations due to the travel of tricky terrain, MIL-SPEC cable assemblies are a must-have. Therefore, if your intended application poses similar conditions, it's best to opt for MIL-SPEC cable assemblies.
Is EMI/RFI radiation an issue? Unless radiation is necessary, such as in radio jamming, you should avoid exposing your application to such radiation. Consider getting MIL-SPEC cable assemblies. These offer complete RFI/EMI shielding, which is especially vital in various applications.
Are you complying with the industry regulations and requirements? Some applications require MIL-SPEC cable assemblies to get the best out of equipment. Also, this could ensure product reliability and safety compliance.
Conclusion: 
Manufacturers designed the MIL-SPEC cable assembly according to military standards and specifications. Often, they employ specially designed and durable materials in these cables.
Such materials make the cable assembly more resilient in several situations, such as when exposed to high vibrations.  For aerospace and military applications, you need reliable and high-quality wire harnesses and cable assemblies for the best result. At Cloom Tech, our team of experts design and fabricate MIL-SPEC cable assemblies to better serve your needs.