In the competitive market, you need exceptional strategies to scale your business. Every business owner wants to maximize productivity with a minor investment. How are you supposed to increase the efficiency of your project? In industrial projects, teams feel restricted from making customization due to limitations posed by wiring solutions. If the engineering team also faces these limitations, then custom cable assembly manufacturing can save your day.

Electric circuit with cable assemblies
CLOOM Tech is a renowned custom cable assembly manufacturer in China offering services to local and international markets. Here is how investing in custom cable assembly can help to optimize your project.
1.Cable Assembly–Custom Products As Per Project Specifications
Limitations and restrictions can hold you back from achieving the desired productivity goals. In an industrial project, your team must have customized tools and equipment to overcome the obstacles in the production capacity. Standard cable and assembly manufacturers follow some specific rules and measurements according to the market demand.
What if you need custom conductors and cables with custom lengths? Ordinary market cable assembly will restrict the production capacity, and you will have to choose the available choices. On the other hand, CLOOM Tech manufactures custom cable assemblies that fit your appliances and projects. We don't want you to compromise on the production quality due to limited resources. If you have product design, we can manufacture everything as per your requirements and project.

Cables according to the project specifications of the project
The flexibility of choice offers you better control over your project to achieve desired product results with your project. Our engineering team can analyze your project specifications to design precise custom cable assemblies that are personalized according to project specifications.
2.Cable Assembly–Better Safety of Appliances and Cables
Cable assemblies are critical for every project that involves the current transmission. Some projects may have thousands of wires and cables, and cable management can be a nightmare in that case. A minor issue in one cable will stop the project for hours. You will have to go through all the related wire connections in the appliances to detect the damage. Don't you think diagnosing electrical faults this way can be complex and take a lot of resources and workforce?
Custom cable assemblies have custom coatings and protective materials that offer better resistance against external factors. In case of any cut during the project working or bending, your electric transmission will be safe due to additional protective layers.

The coating layer of material for better safety
Custom cable assemblies not only provide better protection against damage but also reduce maintenance costs. Low downtime eventually leads to improved productivity and efficiency of the project and appliance. Custom cable assemblies feature wires and strands of different colors that are easy to identify while working with the installation and maintenance of the cable assemblies.
3.Cable Assembly–Optimized Cable Management
Cable management is something that makes custom cable assemblies critical for every industrial and commercial project. In homes, a few cables are enough to power up the whole building, but for projects and commercial buildings, things can be a little bit different. It would help if you managed thousands of wires and conductors without messing in the project, and you could use custom cable assemblies to manage wires and cables better.
Optimized cable management adds a lot to the aesthetics of the project and can reduce the maintenance cost. From installation to the maintenance of wires in cable assemblies, each phase adds value to your project. You get maximum efficient cable management with custom cable assemblies.
4.Cable Assembly–Protection Against Environmental Factors
Harsh weather conditions for outside appliances can damage the wires and cables. General wires don't tend to withstand moisture, winds, sunshine, and rain. If exposed to external environmental factors for long, market cables can break, and you will end up interrupted power supply. For better protection against these external factors and weather conditions, CLOOM Tech uses unique materials and coating jackets to add a sense of safety.

Better protected wires and cables
Apart from environmental factors, internal factors like moisture, abrasion, and chemical exposure can also damage the wires. Custom cable assemblies have unique coating materials depending upon the project specifications and work setting. For example, jacketing for medical cable assemblies is different from cable assemblies for oil refineries.
5.Perfect Fit for Complex Projects
Market standard cables and wires are available in limited lengths. Even if you need specific sizes, you will have to pay for the standard measurements. When you need thousands of wires and cables, spending money like this can increase the project cost. While working with custom cable assembly manufacturers, you can have custom wire lengths according to project specifications. Instead of fixing every wire, you will have the flexibility of installing many wires quickly with cable assembly.
There are no complex rules for the measurements and lengths of cables in custom cable assemblies. Every custom cable assembly comes with personalized wiring lengths. You can quickly deal with complex installations without spending hours connecting each wire. You need to plug the connector of the custom cable assembly, and you will get it done in no time. In the case of complex project specifications, consider using custom cable assemblies instead of market wires and cables.
6.Cost-saving
It is the best thing about custom cables. Having custom cable assemblies and custom wiring harnesses not only helps you to scale your business, but it is cost-saving too. If you compare the price of custom cable assemblies with standard market cables, you will see a hell of a difference. In the case of custom cable assemblies, you are not paying for extra charges.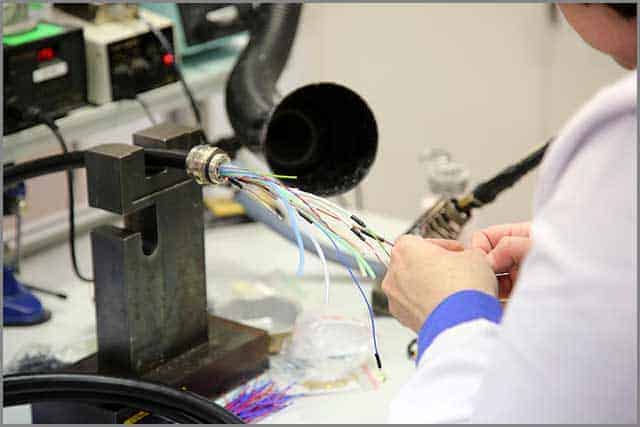 Low cost of custom cable assemblies
You pay only for what you are getting, and you can save a lot of other associated costs, including maintenance costs and testing costs.
7.Professional and Better Project Aesthetics
If you are working on a project involving other parties and investors, you will have to pay attention to the project's aesthetics. Well-managed cables and wires represent you as a professional company. The use of different colors in the wire coating makes the job easier for the engineering teams. The maintenance team can easily detect and neutralize the threat in case of any damage and power failure.
Especially in commercial buildings and offices, messy wires can make business activities a nightmare. It would help if you had optimized solutions to get the desired aesthetic value without worrying about cable management and other stuff.
8.Scale Production With Custom Products
You are not investing in custom cable assemblies only, and you are making a future investment for the improved production quality of your project. More flexibility of design and reduced extra charges allow you to scale and improve your business. Instead of worrying about maintenance costs and workforce for installing supplies, you can get it all done with custom cable assemblies. Custom cable assemblies can help you grow your sales and business as you can focus on things that matter the most.

A man assembles electronic components on a machine.
Custom cable assemblies help scale the businesses, but custom wiring harnesses also do a fantastic job. CLOOM Tech is one of China's best custom cable assembly manufacturers, and we offer manufacturing services to local and international projects. If you think that the limited availability of resources makes things hard for you, try switching to custom cable assemblies.
9.Faster Turnaround Time
CLOOM Tech fastest delivery and manufacturing of custom cable assemblies. If you are on a tight deadline and want to boost progress, you cannot rely on standard market products. Even leading stores cannot provide you with enough cable assemblies for industrial projects. Even if you place a bulk order for cable assemblies, you will have to wait for months.
We have bigger plants to meet the custom cable assembly requirements of any project or team. Whenever you need faster delivery of custom cable assemblies, you can count on CLOOM Tech.
Conclusion
If you want to add all of these mentioned values to your project, you can contact CLOOM Tech for bulk production of custom cable assemblies. We can meet the custom cable assembly requirements of any small or large business.