Active USB cable is now a common way to connect two devices, whether to transfer data or charge the devices. However, their maximum length might not be up to your length requirement.
You will need to extend these cables to overcome the flaw, which is why an active USB cable comes into use. Let us dive into it.
USB Standards, Speeds, and Cable Length Limits
USB wires were first made to connect the peripherals devices with a personal computer like a mouse, keyboard, printer, and external hard drives.
Since these devices are always near the PCs, you can easily use shorter USB cables to link them. Over time, cable found its uses in other areas, and requirements are now quite different from the past.
For instance, you have seen or may have connected your wall-mounted Smart TVs with the laptops across the room using a USB cable, or you might be attaching cameras and other gadgets to record a live show, etc.
Either way, the current USB wire length might limit your connectivity, and you will need extenders and connectors.
Here is a table of basic USB standards and recommended cable lengths.
| | | |
| --- | --- | --- |
| USB Specification | Maximum Data Transfer Rate | Recommended Cable Length |
| USB 1.0 (Full-Speed) | 12 Mbps | 3 m or 9 feet |
| USB 2.0 (High-Speed) | 480 Mbps | 5 m or16 feet |
| USB 3.2 1st generation | 5 Gbps | 2 to 3 m or 6 to 9 feet |
| USB 3.2 2nd generation | 10 Gbps | 3 m or 9 feet |
| USB 3.2 2 by 2 generation | 20 Gbps | 3 m or 9 feet |
| USB4 (USB type C only) | 40 Gbps | 0.8 m or 31 inches |
Why do USB Cables Have a Maximum Length?
Manufacturers have to create shorter USB wires since the greater the length, the greater will be the problems in the signal transfer. The following are the two main reasons for their maximum length limit.
Communication protocols
Using the duplex signal method, the communication protocols transfer data from one point to another via Ethernet or USB wires.
Furthermore, the devices that follow the duplex protocol can communicate with each other in both ways. This phenomenon works in the following way: one device sends the data packet to the other and waits for its reply.
If there is no response from the receiver, the sender again tries to connect and send the packet.
As the data transfer rate is increasing due to high-speed internet demand, the devices have to communicate with each other much more rapidly than before.
The greater the length, the greater the time to send and receive the packets; hence, the error of "late collision" occurs. Engineers use shorter USB cables to overcome the problem to ensure a high data transfer rate.
The Conductivity of Copper Cabling
Another reason for the cable length limit is the conduction of copper wire. As the signals travel along the conductor, they start to weaken.
The attenuation or signal loss during the journey increases with the distance between the start and endpoint. Moreover, the farther the signal travels, the higher the signal loss, and you are left with undetectable noise.
You can use large gauge wires and proper insulation and shielding to lessen the distortion and signal loss. Also, you have to prefer shorter cables, so the signals don't have to travel farther than a specific distance.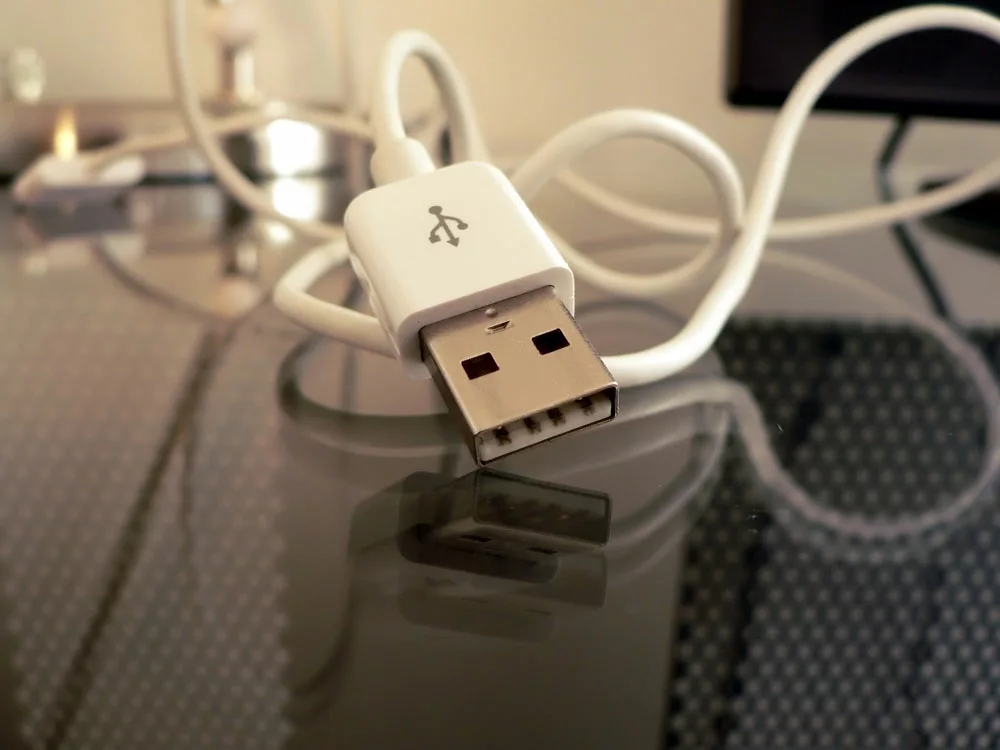 Caption: USB cable type 4
5 Ways to Beat USB Cable Length Limitations
Distortions can occur in a larger USB cable leaving you with a poor signal. But, you can minimize the effect using the following techniques.
Buy a Passive USB Cable
A simple or passive USB cable has USB connectors at both ends. Also, there is no extra phenomenon happening that will help the signals to boost the traveling signals. Thus, the problem of signal degradation remains.
However, using a thick passive cable with proper insulation and shielding might go beyond the length limit and still perform well. So these cables are an acceptable option if you have a limited budget.
Use an Active USB Cable
Active USB cables are hubs with one USB port with signal regeneration circuitry. Thus, one can say that these are signal boosters you can place along the longer lengths of USB cables.
The active USB cable has its batteries, but you can use the USB-A connectors and adapters to charge the system during the process. Generally speaking, the active cables are usually bus-powered.
However, you should get a separate power battery to ensure they are getting adequate power when the cable is very long.
In addition, you will use these units adhering to these limits.
For USB 2.0 devices: 5 meters or approx. 16 feet long regular cable
For USB 3.0 devices: 3 meters or approx. 10 feet long regular cable.
Purchase USB Hubs
USB Hubs work the same as the Active cable hubs with extension cables. It also calls for distance limits of 5 meters for 2.0 and 3 meters for 3.0 devices. It is since the higher the cable's quality, the higher you will need its data traveling speed.
The USB 2.0, 3.0, and 3.1 devices also need a 7-tier connection setup. The sender, receiver, and USB hub are already counted as three tiers in such a network.
After these devices, only four spaces are left. Hence, you can only use 5 USB hubs in a 30-meter or 98 feet of extended network.
Consider USB over Cat5/Cat6 Extenders
USB over Cat5/6 extenders are another one-port hubs that convert the USB signals into Ethernet ones and transmit them over Cat cables. At the receiving point, they reverse the phenomenon and convert the signals back to USB.
These extenders can send signals over 164 feet without distortion, making them an efficient solution for the problem. Remember, it's different from the USB adapter that lets the USB port link with an Ethernet network.
Use USB over Fiber Extenders
These extenders let you install the peripheral devices at any point and are considered the best solution for larger distances.
Also, the fiber extenders are compatible with multiple OS like Linux, Windows, and Mac OS. Hence, you can connect your printers, camcorders, scanners, hard disks, speakers, etc., with the USB over Fiber extenders without any problem.
Caption: USB Hubs with memory
Conclusion
USB cables might have a maximum length criterion, but nowadays, you can find many mediums to extend this length for larger distances. Hence, you can purchase extension cables, active USB cables, hubs, or extenders to attach to either side of the cable and increase the length.
Here at Cloom, we offer wiring harness solutions and custom cable assemblies to meet your need. To get the work done, contact us now.