Computers in the early 1990s consisted of many separate serial ports. The presence of so many ports resulted exists various versions of MIDI to USB cable, and each serves a particular purpose. So much so that the speeds they offer, their dimensions, everything is different.
So, what does your company need? How can you get the right MIDI to USB cable solution? Can you do it with any USB cable? Can you customize the MIDI cable as you need?
We take a look at the top 9 things you need to look for. And see how it can help your business needs.
Alt – MIDI to USB cable for your business
1. Select a USB Based on the Compatibility With the Targeted Device
The USB-IF has defined particular tolerance values for USB devices, and it is to minimize any incompatibilities among connectors across distinct vendors. These specifications have also set some limits on the size of the connectors, and these size limits ensure that the adjacent ports are not blocked.
Make sure to buy a compliant device. If you cannot find a compatible USB connector, you can opt for an extension that does.
2. Select the Right USB to MIDI Cable Connector from Different Connector Sizes.
You have different choices here when it comes to a solution for a MIDI to USB cable.
i) Standard
The cross-section allowed for a Standard A-type connector USB boot is 16x8mm. And the dimension convention for type B is 11.5×10.5mm. The size of the Standard connectors is more compared to mini and micro connectors, and standard connectors support at least 1500 cycles of insertion and plugging-out.
ii) Mini-USB connectors:
Introduced along with USB 2.0 version standard. Mini USBs, designed for peripheral devices like cameras, tablets, and smartphones. Smartphones use Mini -B connectors for transferring data to and from other smartphones. The dimensions of the Mini-A and Mini-B plugs are about 3x7mm.
iii) Micro-USB connectors:
First Introduced in 2007, their width is similar to the width of a Mini-USB. However, the thickness of the Micro-USB connectors is half of the Mini-USB. The cable installed in the shell bears all the mechanical wear and tear, and this design of Micro USB connectors reduces wear and tear on the device.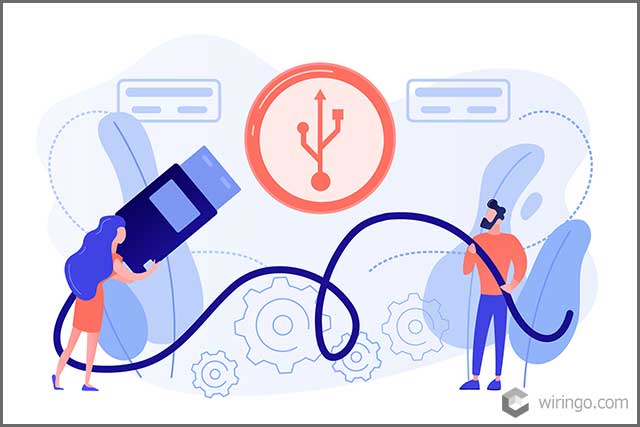 Alt –Using a USB connector
3. Select USB to MIDI Cable Based on the USB Standard Versions
There have been many developments in USB standards over the years. USB4 is the latest version:
USB4:
USB follows the specifications of Thunderbolt 3. It has the capability of supporting speeds up to 40Gbps. Go for this version for the utter transfer speed and connectivity it offers.
USB 3.2 Gen 2×2:
It is also referred to as USB 3.2. USB 3.2 has the capability of transferring data at a speed of 20Gbps. You must use compatible devices with this version, and users have reported its rate deteriorating when not operated with compliant devices. It's an excellent USB to MIDI cable solution.
USB 3.2 Gen 2:
When connected with compatible devices, it offers a transfer speed of up to 10Gbps.
USB 3.2 Gen 1:
Known as USB 3.0 before the recent updates by the USB-IF. It can offer a speed of up to 5 Gbps when used with compliant devices, and it is one of the most commonly used versions as of today.
USB 2.0:
It can support a maximum transmission speed of 480 Mbps. It is one of the most widely and commonly used versions today. Initially used in printer cables, USB 2.0 is the most used version for smartphones. Today, it's a popular MIDI to USB cable solution.
USB 1.1:
It can support a maximum transfer speed of 12Mbps. This version has been long overshadowed by the USB 2.0 due to its higher rate of transfer.
Today, the most used USB version is USB 2.0, followed by USB 3.0, whose popularity rapidly increases. Most devices today are compliant with version USB 2.0 and USB 3.0. It's what you need to consider for a MIDI to USB cable solution.
Alt – Using the right USB solution
It would help if you kept these in mind.
MIDI to USB Cable–USB Type-A
Type-A is one of the most popular USB connecting standards. Host devices like computers, desktops, and gaming consoles use Type-A cable interfaces. Type A connectors make use of friction to keep themselves stuck in one place. They are easy to use and are available in both micro and mini variations.
USB Type B
Peripheral devices, such as printers and smartphones generally use type B interfaces.
Printers used type B wires initially, and however, Android smartphones have taken the place of printers now. Along with that, external hard drives also make use of Type B cables, and type B connectors are available in both Micro and Mini versions.
MIDI to USB Cable–USB Type C
USB Type C gained popularity worldwide after the Apple MacBook was launched. The Apple MacBook was the first notebook to use a Type C USB connecter. All existing peripheral devices support the Type C USB connectors.
One of the Type C MIDI USPs to USB cable is that it offers reverse plug orientation. Reverse plug Orientation allows users to plug in their USBs correctly each time. Type C supports version 3.1 and provides a maximum transfer speed of about 10Gbps. It boasts a power output of almost 20V and 5A. With such high power, the Type C connector can easily cater to the power requirements. It's a popular MIDI to USB cable solution today.
Type C cables also offer Bi-directional power, and it means you can not only charge your phone with your laptop but also use it the other way around.
Alt – USB type c
5. USB to MIDI Connectors Depend on Different Factors
USB device classes differ. Not all will work the same way in a MIDI to USB cable, and MIDI connectors play a role too. Here is what you need to know.
HID – Human Interface Device
It was initially developed and used for USB-connected keyboards and mice. Yet, all I/O devices can use HIDs, and HIDs are also used to pass on configuration data between client and application.
MIDI to USB Cable–MSC – Mass Storage Class
MSCs allow external devices to establish connections and act as storage devices, and they are a perfect choice for data storage and acquisition. One can also use USB device drivers to link a flash file to a host file system and use peripheral devices as storage.
MIDI to USB Cable–ADC – Audio Device Class
ADCs allow streaming audio packets between a device and a USB, and they transmit data as isosynchronous packets. Similar to the MSC and HID, the ADCs also communicate with drivers within the windows themselves.
MIDI to USB Cable–5-Pin MIDI DIN
It is one of the standard MIDI connector pins. It's not as fast as a USB, and however, it does manage speedwell. You can use it to connect two MIDI devices; and however, it's not popular today.
CDC – Communications Device Class
CDCs enables us to implement a virtual port over USB.
Modems and telephones extensively use CDCs, and CDCs also provide interfaces for sending ATM frames and signals.
Composite Device Class
Composite Device Classes are also referred to as – "Multi-Function classes." Composite Class Device supports all the drivers. Therefore, if one is not sure of the actual usability of a USB, one can opt for the generic CDC, which works across devices.
Alt –Modem use CDC
6. MIDI to USB Cables Don't Need a Plug-in Driver
These MIDI cables come with a built-in driver. Most of these are plug-and-play, and you don't need to worry about installing complex drivers. Plus, these run on different OS with ease.
You can also set programs with a MIDI in and MIDI out. You can use these to sync in with the USB port quickly.
7. USB to MIDI Cables Can Have Different Lengths
For USB version 1.1, the length of a standard USB to MIDI cable must be less than 5 meters. It is applicable when all devices are at full speed, i.e., 12Mbps.
USB version 2.0 offers a full USB to MIDI cable length of 5 meters. Under the condition that all devices connected operate at high speed (48-Mbps).
USB version 3.0 does not specify any particular value for the maximum length of a USB to MIDI cable. It is valid if and only if all lines comply with the electrical specifications.
Opt for the USB version 3.0 when operating within long distances or big offices.
You can customize MIDI cables too. You can customize the MIDI cables according to the length you need. A MIDI cable length can be up to 20 feet. However, it is often shorter.
Alt –USB cabling
8. You can Use MIDI Cables for Your iOS and Android Devices
Have equipment with a MIDI output? Want to connect it to your Android device? It's easy to connect to equipment, and it's ideal if you are looking for an economical way to connect to your iOS or Android device. If your Android device has a USB port, it's not a worry.
9. MIDI to USB Cable—Customize MIDI Cables as You Want
You can hand solder the MIDI cables quickly. Or, use an optional synchro cable. You can also have optional right-angle ends. Or, have straight lots – as you want. Plus, the MIDI cables can also have a logo that's resistant to heat.
Alt – Using the correct USB to connector
Conclusion
Over the years, USBs have seen many technological advancements. With the introduction of Type C cables, the dynamics of the USB market spectrum have changed. There are many variations and models of MIDI to USB cables available in the market.
Are you looking for custom cables for your business? Please look at what we have to offer with customizable solutions and state-of-the-art tech, no worries.