More than 200 million motorbikes, including motorized bicycles, motor scooters, and mopeds, are used worldwide. That equals about 33 motorcycles per 100 individuals. Hence, it doesn't come as a surprise that several companies offer services related to motorbikes.
It is possible to change how a bike looks and functions. However, your project needs to take care of wiring to get the desired results; however since it is a complicated procedure. Need a custom motorcycle for your project? Contact CLOOM Tech today; our services span across different countries in various parts of the world.
This article will highlight 11 tips to help the purchasing manager understand the custom wiring harness motorcycle.
Let's get started:
Motorcycle wiring or motorcycle repair
#1 Use Zip Ties When Opting for Custom Speedo Cables
Security should always be a top priority because even a single wire gone wrong can have dire consequences. That is why we suggest opting for zip ties to ensure all the cables installed remain in place.
Zip ties are good not only for a group of wires but for individual wires as well. You will find a variety of zip ties on the market. It's important to choose high-quality materials to get the job done. Poor quality zip tires can do more damage by cutting into your wiring and messing with the entire system.
Hence, I never choose poor quality or cheap products. Your best option is a stainless-barb zip tie. It is more expensive than other choices out there, but it's the most reliable option since it does not break easily and is known to remain solid in sign place without cutting into other wires. You can use it without any worries.
The good thing about different zip ties is that they all work the same, but the effectiveness differs from one type to another.
Note: If you are at the beginning and only testing the new wiring, you can choose cheap zip ties since you may have to cut and replace them until you reach the final stage. You can opt for high-quality products that you will use for a long period after the test do.
Motorcycle handlebar controls
#2 Take Care of Routing in Custom Chopper Wiring Harness
It is important to be as careful as sign placeacturers when routing electrical wires and cables on motorbikes. That may sound like a simple job, but it can be quite complicated because poor installation can lead to serious issues during the ride.
All wires need to route away from heat sources, and heat can cause damage to the cable. There may be no loss of performance in the beginning, but the production will eventually begin to degrade, and the motorbike may even come to a halt all of a sudden.
Another significant factor to remember is the position of the harness. The wires should move freely and not get trapped when you move the forks from side to side.
Forks do not remain stationary, and they're bound to move in multiple directions and may even get compressed. Wires need to route so that they remain free and not sustain any extra pressure no matter how the fork moves.
Lastly, routing must be complete allowing for the motorbike's movement through the air. These machines need to be manufactured, keeping the extreme in mind. It isn't uncommon for the rider to go above the speed of 100 mph, and the motorbike must be able to attain choose stain this performance without damaging the wire.
Air will strike against the wiring, and the force at such high speeds can result in wires getting loose or sustaining other forms of damages.
Blue Meat chopper icon isolated
#3 Pay Attention to Harness Wrapping
Manufacturers are very well aware of wiring, in careful sign number and types of wires used to manufacture a specific machine. We cannot expect the end-user to be mindful of all such requirements or specifications since there are dozens of wires used to produce the end product.
Companies understand this, and hence they wrap the wires together in the form of a bundle. Even then, one motorbike may end up with several packages that typically tape together using insulation tape.
That protects the wire as an additional form of insulation, makes them more durable, and reduces the risk of accidents. In addition to this, some producers turn to sheaving. While it is a different technique, it serves the same purpose as wrapping. The use of split plastic flex tubes is common for this purpose.
We've found that both the techniques are effective and efficient, and you can select one that suits you more.
Brake cable of motorcycle
#4 Custom Motorcycle Wiring Harness-Don't Neglect Electrical Noise
Electrical noise is different from the sound we usually refer to. When a driver or rider is on the road, they have to worry about the noise generated by other vehicles and the electric sound their truck makes.
It refers to unwanted disturbances that result in messy signals. Since motorbikes use computers, electrical noise can lead to issues.
Control units and wires linked to computer systems such as the ignition system need to be neatly isolated from other components, especially electrical components.
Moreover, special attention needs to be paid to ignition wires. It's important to take steps to protect ignition units from components or wires that emit magnetic fields or carry high currents.
Mechanic cut the motorcycle cable.
#5 Custom Motorcycle Wiring Harness-Be Careful about Stress Point
It is natural for the bike to vibrate. The condition can worsen if the end-user lives in an area where the roads are not very neat, and the rides can be bumpy.
That is why it is important to support wires whenever and wherever you can. Cables have to walk great distances, and they need proper support when they enter a terminal.
Some companies choose to heat shrink wires. While this technique works, it may not be the best option since too much heat can damage the cable if not done correctly, and the connection may not be permanent due to the weight of the wire.
We suggest that you add zip ties along to ensure that the pressure is neatly divided. Otherwise, the connection will be weak, and the wires may not remain intact.
Electric motorcycle with power supply cable and plug
#6 Understand More About Affixing Terminals
Most experts believe that soldering is the best way to attach or make connections. However, things have now changed, and manufacturers today believe that crimp-on terminals are a better choice.
Ultimately, it decides on the product owner and what or how they want the machine to be. Each option has its pros and cons. It doesn't matter which option one uses, and the most important point is to install heat shrinks on all the terminals, whether negative or positive.
Installing heat shrinks will insulate the wires and provide support to the cables where they enter the terminal.
motorcycle rear brake stop cable wire
#7 Custom Motorcycle Wiring Harness-Get a Wiring Diagram
Wiring can be tricky, especially if it involves several departments. The best option to remain safe is to get a neat wiring diagram that neatly defines how you want a wiring harness.
Battery connector for motorcycle
#8 Your Custom Motorcycle Throttle Cable Length Needs Your Attention
The length needs to be optimal. If the wire is too short, you will never be able to make a firm connection, and if the cable is too long, then bundling it can be difficult, and the risk of damage will be higher.
Wire harness for electronic
#9 Choose High-Quality Materials for Custom Motorcycle Clutch Cable
That is the most important factor because poor quality materials will result in an inferior product. Motorbikes are made to be durable, and some can run for 20 years. If you want the product you make to end for such a long period, then it is essential that you only count on high-quality materials.
clutch cable car isolated
#10 Put Safety First When Designing Custom Motorcycle Wiring Harness
We have previously highlighted the importance of safety in almost all the sections above. Motorcycle accidents are pretty common, and a large number of them are attributed to poor wiring harnesses.
Paying attention to all the factors mentioned above will ensure you manufacture a safe motorbike for the road.
Mechanic man wiring the electrical cables motorcycle
#11 Custom Motorcycle Wiring Harness-Select a Reliable Provider
The service quality you will receive will depend on the provider you work with. Hence, study the market and choose a reliable provider who understands your industry, is well aware of your requirements and needs, and can provide what you want within your budget.
We suggest comparing reviews and asking questions to ensure you two are on the same page.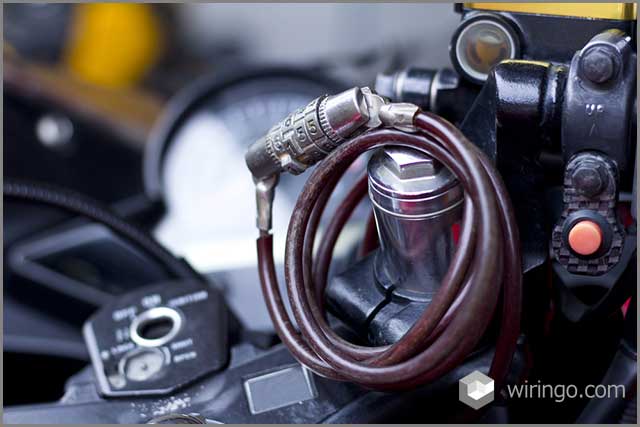 Motorcycle lock cable
Conclusion
These simple tips will help your project get your desired results. The key lies in being careful and knowing what you are looking for. Understanding motorcycle wiring harness is not that difficult, and we suggest that you concentrate more on customized solutions since one size does not fit all.
Get in touch with us if you have more questions regarding custom speedo cables, custom chopper wiring harness, and other aspects of motorcycle wiring.